October 31 – November 30, 2013
PICTURE OF THE MONTH: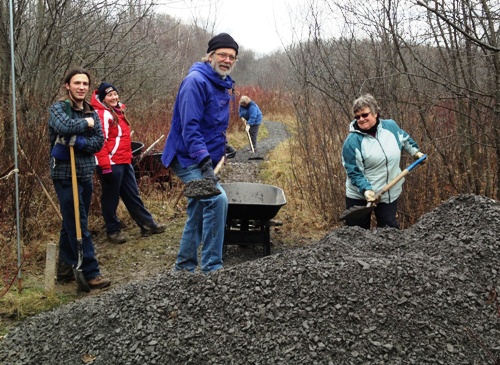 It takes a lot of work to maintain MBO's trails – and this November a loyal team of hard-working volunteers did their part to spread a thick new layer of gravel that will hopefully keep the paths dry and safe for at least the next couple of years. (Photo by Simon Duval)
| | THIS PERIOD | THIS WINTER | 2013 TOTAL | SITE TOTAL |
| --- | --- | --- | --- | --- |
| # birds (and species) banded | 141 (11) | 141 (11) | 4777 (88) | 46289 (113) |
| # birds (and species) repeat | 44 (5) | 44 (5) | 1133 (57) | 9114 (70) |
| # birds (and species) return | 13 (5) | 13 (5) | 221 (36) | 1430 (38) |
| # species observed | 31 | 31 | 168 | 209 |
| # net hours | 39.5 | 39.5 | 9887.5 | 79177.2 |
| # birds banded / 100 net hours | 357.0 | 357.0 | 48.3 | 58.4 |
Note: table does not include nocturnal banding (owls)
Banders-in-charge: Nicolas Bernier, Simon Duval, Gay Gruner
Assistants: Cindy Bouchard, David Davey, Alison Hackney, Lisa Keelty
Notes: The fall season ended relatively quietly, and so it wasn't surprising that the five days of banding in November produced somewhat more modest results than last year at the same time. Nonetheless, there were some notable surprises, including the first White-breasted Nuthatches ever banded at MBO in winter, and two more Northern Shrikes following up on the one banded in the final week of October. The 31 species observed is below usual for November, but no doubt the count will increase a bit in the coming months. The Northern Pintail and Horned Larks observed on 17 November were both new for 2013, increasing the species count for the year to 167.
There was also some banding in November as usual, with House Finches common, as they usually are in early winter. (Photo by Simon Duval)
With the resumption of the winter program, we are again focusing effort on our feeder bird study. Once again, House Finch and American Goldfinch were among the most abundant species at MBO throughout November. We continue to hope that some of our colour-banded birds will visit feeders and get reported to us. Full details of the project are at this link, and if you are lucky enough to spot one of our birds, we encourage you to share your sightings with us through our reporting page.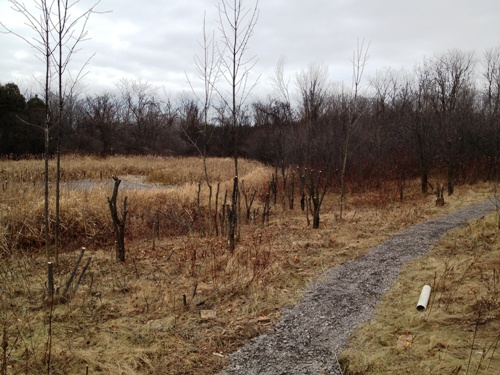 In addition to spreading gravel, volunteers did some much needed removal of young trees to restore the view of Stoneycroft Pond from the census trail in an attempt to keep habitat succession from advancing and influencing our data. (Photo by Simon Duval)
The first week of November also represented the end of this year's owl banding program. Rain washed out three nights, but over the other four evenings, 14 saw-whets were banded, bringing the season total to 174 (plus an Eastern Screech-Owl and a Long-eared Owl). Considering how few owls many of our colleagues to the south have banded this fall, it was a very successful season at MBO even though numbers were down a bit from last year. The owling season will be summarized in the MBO 2013 annual report, available by the end of the year.
This month's top 10 [last years's November rank in brackets]

# individuals banded
mean # individuals observed daily
1. American Goldfinch (69) [1]
1. Canada Goose (300) [1]
2. House Finch (29) [2]
2. American Goldfinch (23) [3]
3. Slate-colored Junco (21) [3]
3. Greater Snow Goose (18) [-]
4. Northern Cardinal (7) [7]
4. Black-capped Chickadee (16) [5]
5. White-breasted Nuthatch (3) [-]
5. American Robin (15) [4]
5. American Tree Sparrow (3) [7]
6. House Finch (14) [6]
5. White-throated Sparrow (3) [6]
7. Slate-colored Junco (13) [8]
8. Downy Woodpecker (2) [-]
8. Mallard (12) [-]
8. Northern Shrike (2) [-]
9. American Crow (7) [10]
10. Black-capped Chickadee (1) [4]
10. American Robin (1) [10]
10. Blue Jay (6) [-]
The top three species banded this month were the same as last year at this time, though all were in somewhat lower numbers. Nearly as many American Goldfinches were banded in five days of banding this month as in the entire fall 2013 season. Another 7 Northern Cardinals were banded on top of the 11 from the fall season, showing again that the local population is surprisingly large. As noted above, White-breasted Nuthatches had never been banded before in winter, so getting three this month was quite a surprise, especially as they are not frequently caught at MBO in any season – this brought the cumulative total to just 16 since 2004!  The two Northern Shrikes banded marked the first time that more than one has been banded in winter; it too is uncommonly banded, and the cumulative total is also now up to 16.
Large flocks of Canada Geese continued to dominate the observations, and with them on 3 November was a flock of Greater Snow Geese large enough to vault that species into the top three for the month. The feeders attracted good numbers of American Goldfinches, Black-capped Chickadees, House Finches, and Slate-colored Juncos, while a fair number of American Robins remained in the area feeding on buckthorn and hawthorn berries. Some Mallards were hanging out in the adjacent farm field, and the top ten was rounded out with a couple of corvids, American Crow and Blue Jay.
Observations will continue through the winter, and some banding will resume later in the season, weather permitting. For now, the priority was to leave MBO in good shape heading into the heart of winter, so that we can be ready to kick off our tenth annual Spring Migration Monitoring Program with limited additional effort. Big thanks to the volunteers who came out to help with our trail maintenance!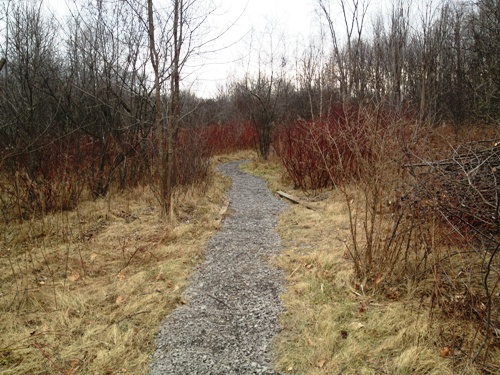 The census trail and net lanes are now ready for use next spring! (Photo by Simon Duval)